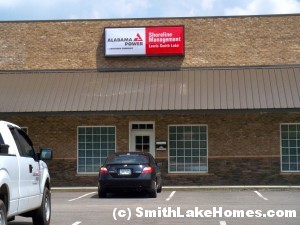 Simply put, your boathouse has to meet certain requirements. Alabama Power Shoreline Management sets and enforces the rules for your Smith Lake dock. Here are the rules and regulations for permitting your boathouse at Lewis Smith Lake.  All of the information is on their page including online permitting requests.
To apply for a permit for a boathouse, dock, or any alteration to the flood easement (below the 522 msl), contact APCO Shoreline Management alone.
If you want to visit them in person, Alabama Power Shoreline Management has an office in Curry which is between the cities of Arley and Jasper on Curry Hwy (Hwy 257) in the southeastern part of the lake. I have provided a map link below. They are located in a small strip mall with Curry Discount Pharmacy and Emmy's Nails.
Alabama Power Shoreline Management
Smith Lake Office
5558 Curry Hwy #3, Jasper, AL 35503
[email protected]
(205) 384-7347
(205) 384-7385